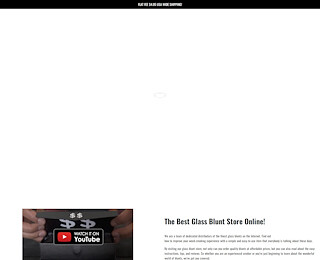 Are you searching for a better way to enjoy your herbs? The Twisty glass blunt pipe has completely revolutionized the smoking process, making rolling and vaping a thing of the past. GlassBlunt.com carries 7Pipe's Twisty glass blunt and offers a thorough review of the product for those who are seeking a better and more enjoyable way to smoke.
Rolling can be challenging, to say the least. There are those few of us who are able to take a pinch of herb and twist it into a thing of beauty in a few seconds- the rest of us struggle with what seems like an incredibly small amount of paper and expensive spillage while we try to work the magic that just isn't in our genes. If you're among the group of us who fumbles through rolling your herbs and just can't seem to get the hang of it, take heart.
There's a much better way. 7Pipe's
Twisty Glass Blunt
offers the fastest and easiest way to smoke cannabis. Simply take out the screw, pack your herbs into the blunt, re-insert the screw and light it. That's it- honestly! What is so amazing is that you can pack up to 1.5G of herb into the blunt, so you can share it with friends for a more enjoyable experience.
With 7Pipe's patented infini-cherry technology, you won't have to keep relighting the blunt; it will stay lit from start to finish, and when you're through, simply twist the screw and the ash is pushed out the end. You absolutely won't find anything easier to use. Replace the silicone cap once the blunt has cooled down and it's ready to store until your next session.
If you'd like to take advantage of a 10% discount on your first purchase, sign up for Glass Blunt's newsletter. You'll not only get a nice break on the already affordable price of the Twisty, you'll stay current with the smoking news.
There are a few tips to getting the most enjoyable experience out of your Twisty glass blunt as possible that include:
– Taking lighter and shorter draws from the blunt; since the herbs is so tightly packed, it can provide a very potent hit. Back off on your first few draws and adjust to your personal preference.
– Keep your Twisty glass blunt clean by washing it with warm water and a small brush before resin becomes built up on the glass. Alternately, you can gently submerge the glass in alcohol or glass cleaner. Either way, clean the instrument carefully to avoid breakage, but  know that replacement parts are available if something happens to break.
– Invest in a carrying case to protect the blunt if you take it out of your home and travel with it.
You can get a closer look at the Twisty Glass Blunt by visiting GlassBlunt.com where you can read a review on the product and find additional information on 7Pipe's Twisty Glass Blunt that is currently for sale at an unbeatable price.