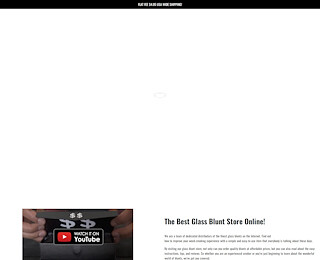 Glass Blunts are becoming ever more popular as more and more states are changing legislature concerning cannabis. As more people are embracing weed for its medicinal and recreational properties, they are searching for better ways to enjoy their herbs. GlassBlunts.com carries a Twisty Glass Blunt by 7Pipe that has changed the game for smokers, offering one of the easiest, most satisfying smoking experiences imaginable.
There are numerous benefits to using a glass blunt over vaping and rolling. If you're looking for an experience that will leave you with a very clean high, you'll find that a glass blunt is able to provide precisely what you seek. Consider a few of the advantages smokers get from glass blunts:
– Do you find rolling papers to be far too small to do the job properly? If you've ever felt short-papered while trying to roll your herbs, spilling out your pricey cannabis on your lap while trying to do the job, you know exactly what we're talking about. We can't all be world-class rollers- although there are a few of you out there. Glass blunts completely eliminate to carry papers and try to roll in cumbersome, cramped or turbulent circumstances.
– You'll be able to pack up to 1.5g of cannabis into the blunt, light it once and pass it around without having to relight it for the entire session. Being able to pack the herbs very tightly into the blunt ensures it will maintain a cherry until it has completely burned out.
– The Twisty Glass Blunt has received a unanimous 5 star review board from more than 100 customers who have a lot to say about why they love the product. It's not always easy to find a product on today's market that is reasonably priced, made of high quality materials and does exactly what it says it will. The Twisty Glass Blunt has proven to the industry it is that kind of product.
You'll love how easy it is to work the 'Twisty'. Just take out the screw (It turns clockwise), pack your cannabis into the blunt (up to an amazing 1.5G), and twist the screw back in, this time counter-clockwise. That's all there is to it, and the whole process will take you no more than a few seconds. Compare that with pulling out a paper and fumbling with through rolling your herbs. Light the pipe and enjoy it. Twisty
Glass Blunts
are engineered with infini-cherry technology, so you won't have to relight during your session. Pass the blunt around and let everyone enjoy it. When you're through, simply give the screw a clockwise twist to push out the ash, replace the silicone cap after it has cooled down and store for your next session.
You're going to love the new 'Twisty' that is head and shoulders more advanced than other glass blunts on the market. Stop by GlassBlunt.com to read a thorough review of the product and discover what so many others already have- the Twisty Glass Blunt offers the best smoking experience you'll ever have.