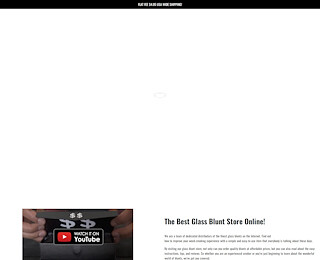 If you're looking for a new way to enjoy your cannabis, take a closer look at the 'Twisty'
glass blunt pipe
from 7Pipe. The Twisty offers a one of a kind smoking experience unlike anything you've enjoyed before. If vaping is not your style, and you want a very clean high from start to finish, consider what a glass blunt pipe has to offer.
7Pipe's Twisty glass blunt pipe from GlassBlunt.com makes rolling a thing of the past- great news for those of us who struggle with that feeling of being short-papered during the rolling process. If you're among the group of smokers who cringes every time some of your expensive herb spills across your lap when your'e trying to roll it, you'll certainly appreciate how a glass blunt pipe can make your life easier.
You'll be smoking within seconds! Simply twist the screw out of the blunt, pack your cannabis into it, re-insert the screw and light it up. You won't find anything easier out there. Best of all, you can fit up to 1.5g of herbs into the blunt- and you won't have to relight it over and over while passing it around, thanks to the Twisty's infini-cherry technology that ensures it will stay lit to the end. Give the screw a clockwise twist and the ash gets pushed out the end. Just cool down and replace the silicone cap and it's ready to store.
Customers love that they are able to pack their herbs into the Twisty very tightly, and that also means you won't have to draw as hard on the pipe. As you're getting adjusted to the instrument, start out by taking lighter and shorter draw until you get the feel for how powerful the Twisty glass blunt pipe is, and adjust your draw from there.
When it's time to clean the Twisty, nothing could be easier. Over time, the glass will become stained by resin, which will impact the flavor of your herbs. Wash out the pipe with warm water and a small brush or just soak it in alcohol or glass-cleaning solution. The glass blunt pipe is breakable, so wash it with care. If it happens to break, there are replacement part for sale, but caution should go far in avoiding breakage.
Reviews for the Twisty glass blunt pipe have been amazing, with 5-star comments across the board, making a huge impression on an industry that does not often see a new product come along that positively impacts the using experience. Being an affordable product as well as offering high quality is not a combination often seen in today's market. You'll find the Twisty bless blunt pipe offers everything you're looking for- and is discreet besides.
Visit GlassBlunt.com to see a full review of the Twisty and see for yourself why it's become one of the hottest products available for smoking cannabis. You deserve a better way to smoke your herbs- the Twisty is it!