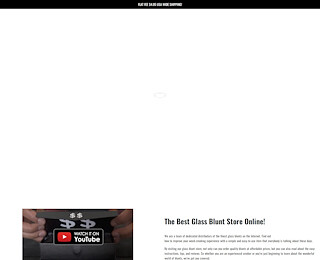 Having trouble finding a great glass blunt for sale? You're going to love the Twisty. 7Pipe's glass blunt, the Twisty, is the newest way to smoke cannabis, and what's more- it couldn't be any easier.
Are you a smoker who hasn't quite mastered the skill of rolling up your herbs? Join the club. We can't all be pros, but we can all provide an enjoyable experience when friends stop by for a smoking session. You'll wow them with the Twisty from start to finish and leave them all wanting one of their own.
Here's how the Twisty works: Remove the screw, then pack your cannabis into the blunt. Re-insert the screw and light it up. The Twisty's patented InfiniCherry innovation will keep it lit until the very last puff, so you won't have to deal with the hassle of relighting it on its way around your circle. Since you can pack an amazing 1.5G of cannabis into the blunt, it's going to go far.
With the high cost of cannabis, anything that makes it go further can be considered a good investment. With the Twisty, you can take much lighter draws to get the same effect, so you'll maximize your investment. In fact, the first couple of times you hit it, you'll want to back off and take light puffs to get the feel of using it. If your current smoking instrument is making you feel as though you're burning through your herbs too quickly, you'll appreciate how the glass blunt works.
7Pipe knows it's not easy finding the perfect
glass blunt for sale
at a price that's affordable. Their Twisty glass blunt pipe is priced right and made to stand the test of time. Made of German Schott 2mm glass, you'll find it's the perfect quality for smoking. Take precautions using and storing the Twisty and you'll be enjoying it for years. You may consider investing in a carrying case even if you have no intentions of taking it out of your home.
7Pipe offers the perfect glass blunt for sale which can be purchased at GlassBlunt.com. From there, you can read the full review on the Twisty so you can get a better idea of what others are saying about it. You'll find it has received very favorable reviews as it is able to deliver on a great smoking experience.
Enjoy the freedom of never having to fumble around with a rolling paper again. Just pull out your glass blunt and in seconds you and your friends will be enjoying cannabis the way it was meant to be enjoyed. With a glass blunt, there is nothing to diminish the taste or the purity of the smoke. You're left with nothing short of total satisfaction.
Visit GlassBlunt.com to find the Twisty glass blunt for sale- the simplest and most effective way to enjoy your herbs. Sign up for their newsletter and take 10% off of your first order. You'll never be out of the loop again.