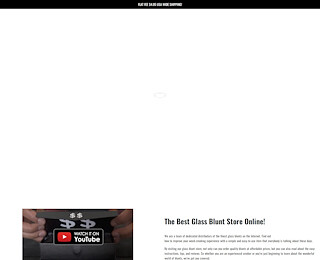 GlassBlunt.com sells 7Pipe's Twisty Glass Blunt- a very simple yet effective tool that is every bit a work of art as it is a great means to smoke. While it's true that vaporizers are all the rage today, sometimes it's just nice to do things in the traditional manner. Smoking is relaxing and offers a unique experience- but there are times when papers are not available. The Twisty
Glass Blunt
is perfect for those times.
Not all of us can be world-class weed rollers- there just seems to be a few of us that rise to the top in this category, leaving the rest of us to fumble around with what always seems like not enough paper to do the job. If you're tired of your expensive cannabis spilling out of your rolling paper, consider what the Twisty Glass Blunt can do for you. With 7Pipe's Glass Blunt, you can tightly pack in all of your weed to get a more satisfying draw without burning the herb.
The Twisty Glass Blunt is easy to use as well. Simply take out the screw, pack your herb into the blunt (there is room for 1.5g), and carefully re-insert the screw into the blunt, twisting counter-clockwise until it is completely inserted. You'll find that the glass is of high quality, 2mm thick and of a German Schott type- the perfect quality for smoking. All of this takes just seconds to perform. Now just light up and enjoy- so much faster than rolling and so much easier.
The Glass Blunt will not go out, and will stay lit throughout your entire smoking session. Best of all, it takes just another few seconds to get rid of the ash- just twist the screw clockwise and the ash will get pushed out the end. The Twisty Glass Blunt will allow you to share with your friends- who will no doubt be impressed with the experience they have with this product.
There are some simple tips to enjoying the Twisty Glass Blunt to its fullest:
– The Twisty Glass Blunt allows you to tightly pack your weed, therefore the draws tend to be incredibly strong. When first using the blunt, back off a bit and take lighter puffs until you get a feel for how much power it has.
– Regularly soak the blunt in alcohol or wash with warm water and a small brush, taking care, since it is a glass instrument and apt to break if not careful. If you should happen to break the blunt, you'll be happy to know that replacements are available.
– Keep the silicone cap on to reduce the potency of the aroma
Consider 7Pipe's Twisty Glass Blunt for your next smoking session and experience the difference a clean, high-quality inhale makes. Visit GlassBlunt.com to read a review on the Twisty Glass Blunt and see for yourself if it isn't everything it claims to be- and more. Sign up for the newsletter online and receive 10% off of your first purchase.