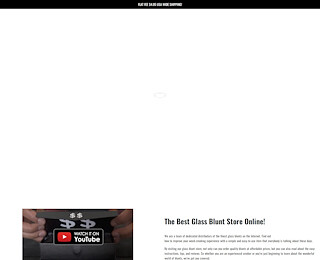 Thanks to 7Pipe's Twisty Glass Blunt pipe, trying to roll up your herb on the go is a thing of the past. In fact, the Twisty Glass Blunt pipe effectively replaces whatever you're currently using to roll your blunt. Available at GlassBlunt.com, we think you're going to absolutely love the Twisty glass blunt pipe.
We've seen a lot of smoking gimmicks come and go recently with cannabis taking center-stage and up-start companies coming out of the woodwork with one product after another for smoking. Let's be clear on one thing- the Twisty glass
blunt pipe
is not a here today gone tomorrow tool, it's the kind of instrument that you get in your hand and wonder how you ever got by without it.
The genius of the Twisty glass blunt pipe is that it's a simple design that is very effective. You can be enjoying your herbs in a matter of just seconds. Here's all you have to do to get started. Simply take out the screw, pack your herb into the blunt, re-insert the screw and light it up. The blunt pipe is much faster than rolling and much more enjoyable.
Do you always feel as if you got short-papered when you're trying to roll your herbs? It seems like the papers are never wide enough to do the job properly, and what's worse- spilling your herbs on your lap is costly. With the blunt pipe, you can fit an incredible 1.5G of herb into the blunt and you won't waste a crumb. The glass is 2mm thick and of a quality German Schott type that is perfect for smoking.
Being able to fit 1.5 G of herb into the blunt pipe means you'll be able to pass it around so everyone can enjoy it. You're sure to hear comments along the way about how impressed your friends are with the smoking experience using the blunt pipe. The Twisty's patented InfiniCherry technology ensures a well-lit cherry throughout your entire session, so you won't have to relight it until your session is over.
You might want to mention when passing it around that it's made of glass and is breakable, which can go far in reminding others to pass it with care, however if something should happen to the blunt, replacement parts are available. With proper care, you should enjoy your blunt pipe for many years.
With a blunt pipe, you won't have to take very strong hits, and since the herbs are packed in so tightly, you'll find a light, short puff is all you need. The first time you use the Twisty blunt pipe you'll get an idea of how hard you want to hit it.
You can take a closer look at the Twisty blunt pipe by visiting GlassBlunt.com, where you'll find a full review of the product and information on how to use and clean the pipe. If you're looking for a convenient, discreet and very enjoyable way to smoke your herbs, we think you'll love the Twisty.