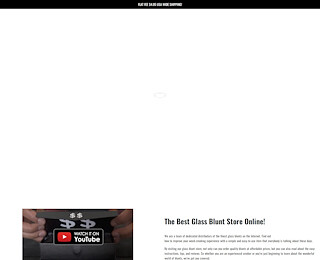 You may have heard that the 7Pipe blunt is a totally new way to smoke your herbs, but what you may not know is that it will make your cannabis go much further than rolling or smoking it in any other way. This is partly due to its patented InfiniCherry technology that ensures it stays lit during your entire smoking session. GlassBlunt.com carries 7Pipe's Twisty glass blunt pipe at a great price.
While we can't all be experts at rolling up our herbs, we can all provide an expert way to smoke cannabis. If you're among the group of us who are constantly asking a friend to 'do the honors' of rolling, you may feel like you're not doing your part in contributing to the session. Now there's a way you can contribute more than just your herbs, when you use the 7Pipe blunt- you don't have to be an expert to share a great smoke!
With the Twisty glass blunt pipe, you'll be smoking in a matter of a few seconds. Here's all you have to do:
– Take out the screw
– Pack your herbs into the blunt
– Re-insert the screw
It's honestly that easy to use the Twisty. Since you can fit up to 1.5G of cannabis into the blunt, it's going to last a long time, even if you pass it around among your friends. The InifiCherry technology will keep it lit throughout, until the very last puff. What makes the 7Pipe glass blunt different is that you won't have to hit it very hard to get a good draw; in fact, the first couple of times you use it, you may want to be careful not to hit it too hard until you get a feel for it.
When your session is over, simply give the screw a twist and the ash will come out the end. Simply replace the silicone caps and store until your next session.
Over time, the glass on the 7Pipe blunt will become stained as resin accumulates on the glass. It's very easy to clean and keep looking nice. Just wash out the blunt pipe with warm water and a small brush or gently set it in a bowl of alcohol to soak for a bit, then wash it out. Take precautions when washing the glass blunt to avoid breakage and you'll be enjoying it for many years.
The 7Pipe glass blunt should be kept in a soft carrying case when not in use to reduce the risk of it getting broken. If something should happen, you can order replacement parts for the glass blunt.
What are people saying about the Twisty 7Pipe glass blunt pipe? Reviews are incredibly favorable, with customers very happy with the performance of the blunt as well as the level of discretion they are able to experience when using it.
You can see a full review on the Twisty 7Pipe glass blunt by visiting GlassBlunt.com. Take 10% off of your first purchase just by signing up for the newsletter that will keep you in the loop.
7pipe Blunt