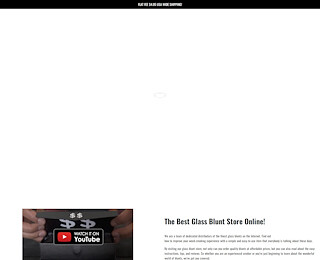 7Pipe has created a glass blunt that has revolutionized the smoking experience by making it effortless and enjoyable, without having to worry about carrying papers or twisting up during a challenging situation. If you've been looking for a way to smoke your cannabis that will completely eliminate the hassle, stop by GlassBlunt.com and have a look at the Twisty Glass Blunt Pipe.
Just what makes 7Pipe's product so different? That's pretty easy to answer, really. New technology and a totally new design has resulted in one of the easiest-to-use blunts on the market. Take a look:
To use the Twisty, just take out the screw, pack your herbs into the blunt and re-insert the screw. If there was more to it than that, we'd tell you, but that's the entire process. Light it up and enjoy a smoking session like you've never had before. Now, here is what makes the 7Pipe Twisty different from the rest:
– You can pack up to 1.5G of cannabis into the blunt- enough for you and your friends to enjoy.
– Patented infini-cherry technology means you'll light it once and not have to relight throughout the entire smoking session. The blunt will maintain a cherry from start to finish.
– Being packed so tightly will allow for much lighter and shorter draws, making it more enjoyable to smoke.
On your first session with the Twisty, take easy, slow draws until you get a feel for how powerful the instrument is, after which it's just a matter of adjusting how hard you want to hit the pipe to get what you want out of it. You'll find it is not necessary to puff as hard on it as with other blunts, which also means your cannabis will go further.
After your session has ended, give the screw a twist and the ash will be forced out the end, making it very easy to keep clean as well. Once cooled, place the silicone caps on the ends and store until you want to use it again. We highly recommend purchasing a carrying case to protect the blunt, since it is made from glass.
If you should notice resin building up on the glass, simply wash with warm water and a brush or soak in alcohol, being careful in either event to avoid breakage due to dropping or knocking on a hard surface. If it should happen to break, there are replacement parts available.
Visit GlassBlunt.com to see the 7Pipe Twist Glass Blunt for yourself, check out the review on the product and see why it has become one of the most popular instruments on the market today for smoking cannabis. For a very clean high, smoking in the Twisty far surpassed a vaping or rolling experience and offers the fastest way to enjoy your herbs.
For consistency that only comes from using a high quality glass blunt, the Twisty is able to offer what nothing else can. Take a look on GlassBlunt.com and get 10% off of your first purchase just by signing up for their newsletter.
7pipe